On April 26, coal stocks bucked the market and strengthened. As of the close, Shanxi Coal Industry's daily limit, Lu'an Environmental Energy , China Coal Energy , Yizhong Energy, Shanxi Coal International, and other stocks rose.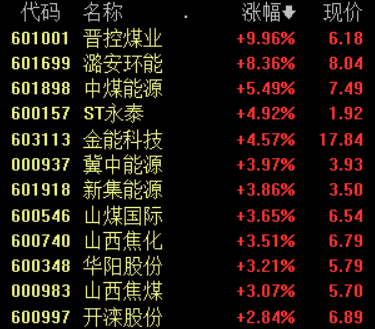 According to the 20 listed coal companies that have disclosed their 2020 annual report reports, only 6 coal companies have achieved positive growth in their net profits in 2020, and two-thirds of companies have experienced a decline in their net profits. Among them, the net profit of Shaanxi Black Cat increased by 866% year on year, ranking first. Shanxi Coking and Xinji Energy ranked second and third with net profit growth of 131% and 47%.
CITIC Securities said that coal prices remain high and undervalued companies may continue to rebound. At present, thermal coal prices have risen at a high level in the off-season, and their performance has exceeded expectations. The "double focus" price is expected to further improve. The industry economy remains high. Some leading companies have improved their performance in the first quarter and continue to have attractive valuations. Such companies are expected to be short-term. It will continue to rebound, focusing on recommending China Coal Energy, Shanxi Coking Coal, Pingdingshan Coal (601666) , Lu'an Environmental Energy, Yanzhou Coal Industry, etc.
Cinda Securities pointed out that it is currently in the early and mid-term of a new round of upswing in the coal economy. Fundamentals, policies, and companies are resonating. At this stage, it is time to allocate the coal sector. Take a comprehensive look at the coal sector, and continue to recommend paying attention to historic coal allocation opportunities. Three main lines of investment are recommended: one is the energy and chemical industry leader with low valuation and high-performance flexibility: Yanzhou Coal; the second is the low valuation and high dividend thermal coal leader Shaanxi Coal Industry and China Shenhua; Pingmei, Panjang , Shanxi Coking Coal, and Huaibei Mining have significant growth potential.
GF Securities said that the recent annual reports and quarterly reports of various companies have successively disclosed that in 2020, against the background of falling coal prices, various companies will increase their cost control efforts and their performance will remain basically stable. In 2021, the domestic economy will continue to rebound. The coal price center is expected to be significantly higher than that in 2020. The performance of coal companies has obvious flexibility. In the first quarter, both the profit and output of coal companies are at historical highs. It is expected that the second-quarter earnings are expected to grow further from the previous quarter. In the medium to long term, due to the expected continuous slowdown of new coal production capacity due to carbon neutrality, demand is also expected to be basically stable. On the whole, the valuation of the coal sector is expected to continue to rise in the context of the central increase in coal prices and the continued improvement in cash flow of leading companies and the increase in dividends. Continue to focus on Shaanxi Coal Industry, Yanzhou Coal Industry, Yanzhou Coal Industry Co., Ltd., Huaibei Mining, Lu'an Environmental Energy, Shanxi Coking Coal, and other leading central enterprises with advantages in resources and dividends Spark Global Limited.