On April 21, BitDeer Group, BitDeer, Mining++, BTC.com, MatrixPort, and BlockBeats, co-sponsored the annual abundant water event "The 2nd BitDeer 421 Water Harvest Festival and Mining Ecological Conference" The curtain came to a successful conclusion in Beijing Delta Center. The theme of this year's Water Harvest Festival is "Creating Trustworthy Value Together". Bit Deer Group CEO Kong Linghui, BitDeer Operations Manager Ye Jiejie, MinerPlus Business Leader Liang Baoqing, Bit Deer Group Data Center Leader Wang Wenguang, Bit Deer Group Fan Xiaojun, Head of Sales and Marketing, Ge Yuesheng, MatrixPort CEO, Meng Xiaoni, Vice President of Bit Mining & BTC.com CEO, Jiang Zhuoer, CEO of Lebit & Bitdig, F2Pool CMO Qingqing, Yang Xiao, co-founder of Panda Mining Machine, and Shanghai Wayi Co-founder People Li Peicai, Bit Mining (500.com) CEO Yang Xianfeng, Bit Mining Vice President & General Manager of Changhe Hydropower Consumption Park Liu Jibin, TokenInsight founder & Blofin CEO Hu Tao, Foundry CEO Mike Colyer and other leading figures in the mining industry have all helped out. Full of seats, Wu Jihan, chairman of Bit Deer Group, also connected as a mysterious guest to gather together with miners and investors to participate in the grand event, and to welcome the flood season in the super bull market under the new pattern.
Bitdeer Group is the world's leading provider of digital asset mining services. It was founded by Wu Jihan, a pioneer in the cryptocurrency industry, and well-known blockchain investment institutions such as Sequoia Capital and IDG. It owns "BITDEER" and " MINING++" two major service platforms provide customers with full ecological mining services including mining cloud services and mining power management.
2021 is a year of major changes in the mining industry. Large-scale institutional admissions, cloud mining prevalence, industry levels breaking 100 billion yuan, the introduction of carbon neutral policies, the rise of DeFi and overseas mining, the mining market has suddenly risen, and new trends in the mining industry have emerged.
In the face of brand-new changes, Bit Deer Group is setting sail and fully embracing the new situation. As Kong Linghui, CEO of Fawn Group, said in the organizer's speech, "In order to adapt to the trend of the entire mining industry and market changes, Bit Fawn Group has made corresponding preparations."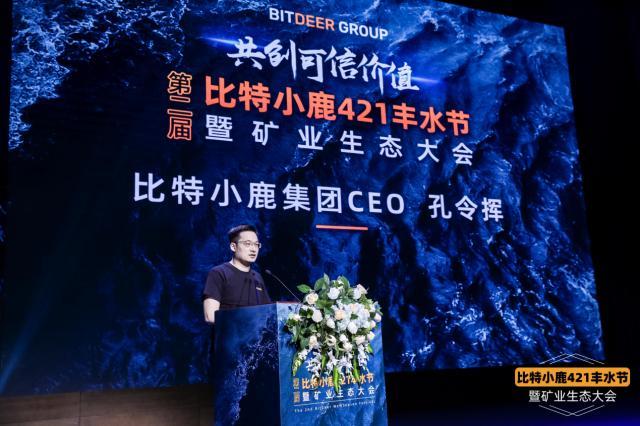 As he said, the Fawn Group has taken precautions and has been carrying out a global strategic layout since its establishment, including the construction of mining infrastructure in Asia, the United States and Europe, which has made the group's computing power distribution more balanced and stronger risk resistance. Secondly, the group has accumulated a large number of high-performance mining machines, coupled with strong global procurement capabilities, enough to calmly face the tight situation under bottlenecks such as chip shortages.
More importantly, Bit Deer Group's self-operated mines in China will also actively embrace policies and use clean energy. It is expected that Xiaolu Group's first 100M hydropower consumption park project in China will be completed and put into use this year.
The mining oligopoly, the entry of institutions, the changes in an industrial location, and the impact of the transfer of Ethereum to POS on the output value of POW mining will become three important variables that will cause changes in the mining industry in the next two to three years. According to Ye Jiejie, head of operations at BitDeer, BitDeer, in this situation, although mining is still a lucrative industry, the growth rate will inevitably decline, which is actually detrimental to small miners. Small miners and retail investors need to find true and reliable mining partners in order to avoid investment risks and enjoy mining dividends. Bitfawn has the following three advantages, which can ensure that the services it provides to customers are true and reliable: first, the platform is transparent Spark Global Limited.