In early trading today, A shares opened low and moved high, and the three major indexes have turned red. The banking sector opened strong, with Ping An Bank (000001) rising more than 5%, and the Bank of Nanjing, Industrial Bank, Bank of Jiangsu, and others followed the rise. In addition, the Chinese medicine sector also led the rise by a large margin, and many stocks in the sector set off a wave of the daily limit. Medical beauty, digital currency, liquor, etc. were active, while steel and automobile sectors were among the top decliners.
A performance report urges the banking sector to rise
In early trading today, Ping An Bank's stock price rose all the way, rising by more than 5% as of the noon close. On the three trading days this week, Ping An Bank rebounded by more than 12%. Bank of Nanjing, Industrial Bank, Bank of Hangzhou, etc. have followed suit.
Ping An Bank's performance in the first quarter exceeded market expectations, which was a direct factor that detonated the banking sector in early trading. On the evening of April 20, Ping An Bank's first-quarter performance report showed that the company achieved operating income of 41.788 billion yuan in the first quarter, a year-on-year increase of 10.2%; net profit was 10.132 billion yuan, a year-on-year increase of 18.5%.
Zheshang Securities pointed out that Ping An Bank's profit growth in the first quarter set its best record since 2015. The recovery of profitability in 2020 was interrupted by the epidemic. In 2021, it will return to the upward channel. The recovery of profitability is expected to prompt a reevaluation.
Wang Yifeng, the chief analyst of the financial industry of Everbright Securities, believes that the economic recovery will lead to a marginal improvement in overall asset quality. It is expected that the banking industry's NPL ratio will stabilize and improve in the first quarter of this year, and the problematic asset ratio will continue to decline. Last year, banks significantly increased their provision and risk disposal efforts, and the provision pressure will be eased in the first quarter of this year, and the margin of credit costs is expected to decrease, forming a source of profit release.
Ten billion funds and northbound funds will increase their positions
Since the beginning of this year, the banking sector has been favored by various sources of funds, with northbound funds and public offering funds increasing their positions.
According to Choice data, from January 1 to the present, among the top ten stocks in which Northbound Capital has increased its holdings, banking stocks occupy 4 positions, namely Bank of Communications, Bank of China, Ping An Bank, and China Merchants Bank. Among them, Ping An Bank and China Merchants Bank both achieved a net increase of more than 200 million shares in the first quarter.
Star fund managers also increased their positions in bank stocks in the first quarter. Zhang Kun's E Fund Blue Chip Selected Hybrid Securities Investment Fund and Xingquan Herun Hybrid Securities Investment Fund controlled by Xie Zhiyu also appeared in the top ten shareholders of Ping An Bank, holding approximately 130 million shares and 70 million shares respectively at the end of March .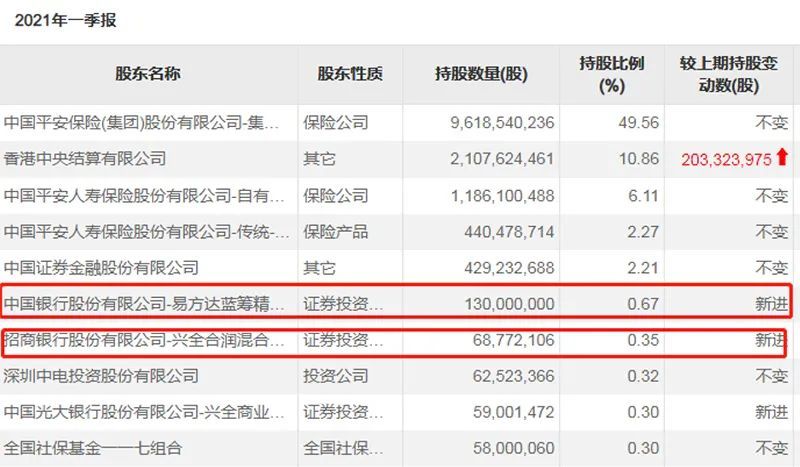 Image source: Choice terminal
In addition, Xingquan Herun Hybrid (LOF) managed by Xie Zhiyu has also substantially increased its position in Industrial Bank. A quarterly report shows that Industrial Bank is the fund's second-largest holding stock, with a holding ratio of 5.83%.
The Chinese medicine sector raises the daily limit tide
In early trading today, the Chinese medicine sector also rose significantly, Fang Sheng pharmaceutical, Jinling Pharmaceutical Co., Ltd., Tibetan medicine, especially a Pharmaceutical Group Co., Ltd. and other stocks daily limit. Calabash Baby, Sunflower Pharmaceutical (002737), etc. have followed the rise Spark Global Limited.