Kill a white horse in one day, and kill the jewelry industry today. After opening sharply lower in the early trading, Zhou Dasheng plummeted and closed the limit at around 9:51. As of the morning's close, the stock price rebounded. The stock closed at 32.19 yuan, a decrease of 9.98%. Zhou Dasheng is engaged in the design, promotion and chain operation of "Zhou Dasheng" brand jewelry, and is one of the largest jewelry brand operators in China.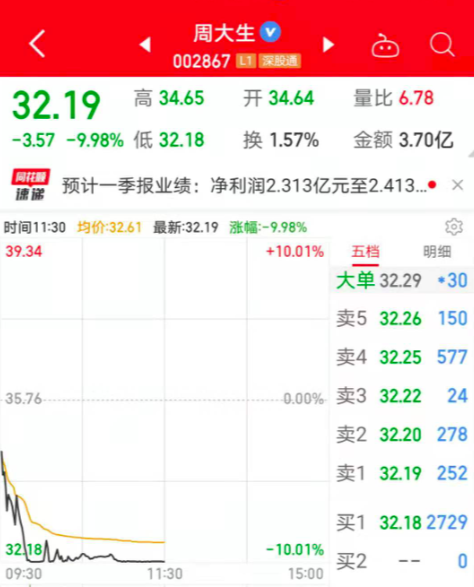 Just yesterday, the stock released a quarterly report performance forecast. It is estimated that the net profit in the first quarter is about 231 million yuan to 241 million yuan, an increase of 130% to 140% year-on-year.
It is worth mentioning that Zhou Dasheng is still a heavyweight in the social security fund. Data shows that as of the end of last year, the National Social Security Fund 101 and the Social Security Fund 420 were both the top ten tradable shareholders of the company, and they increased their positions in the fourth quarter of last year. Among them, the National Social Security Fund 101 Portfolio increased its holdings by 2.52 million shares, and the Social Security Fund 420 Portfolio increased its holdings by 350,000 shares. In addition, Zhou Dasheng is also a long-term social security stock that has been heavily stocked for 14 consecutive quarters.
In addition to Zhou Dasheng, there are still many white horse stocks that have experienced significant declines today. Among them, the gold medal cabinet intraday limit, Dashenlin , Rainbow shares (002,419) , Cambrian, Gu home, owner of electrical appliances, and other stocks were down over 5%. In addition, Industrial Bank , one of the heavyweight stocks, once fell more than 5%.
Leveraged funds large-scale increase in stocks exposed
With the continuation of this round of adjustments, a number of white horse stocks have seen a significant decline in stock prices. Under this circumstance, the trend of leveraged funds is worthy of attention.
Data treasure statistics show that as of April 14, the total financing balance in the Shenzhen and Shanghai markets was 1.51 trillion yuan, an increase of 1.269 billion yuan from the previous trading day. Among them, the Shanghai stock financing balance was 796.769 billion yuan, an increase of 760 million yuan from the previous trading day. Yuan; Shenzhen Stock Exchange's financing balance was 713.143 billion yuan, an increase of 509 million yuan over the previous trading day.
This shows that leveraged funds are still relatively positive for the market outlook Spark Global Limited.
Specific to individual stocks, a total of 982 shares received financing net purchases on April 14, 165 of which had net purchases of more than 10 million yuan, of which 20 had financing net purchases of more than 50 million yuan. CATL's financing net purchases topped the list, with a net purchase of 710 million yuan on the day, followed by Hengrui Pharmaceuticals and WuXi AppTec, with financing net purchases of 644 million yuan and 196 million yuan, respectively, and the top financing net purchases There are also BYD , Wuliangye , COSCO Shipping Holdings and so on.
According to industry statistics, among the net purchases of over 50 million stocks by financing customers, the pharmaceutical and biological, banking, and electronics industries are the most concentrated, with 5, 2, and 2 stocks on the list respectively. In terms of sector distribution, among the large-scale net purchases, there are 16 stocks on the mainboard, 3 on the GEM, and 1 on the Sci-tech Innovation Board.
Financing passengers generous net buying stocks, the market value of the proportion of total outstanding balance of financing from the latest look, the arithmetic average of 3.67%, the highest proportion is financing the balance Grammy ratio, financing balance of 3.348 billion yuan latest stock, accounting for market capitalization At 8.27%, Yuyin shares, Watson Biotech, and TCL Technology accounted for a relatively high proportion of financing balances, accounting for 7.84%, 6.59%, and 6.04%, respectively.