Kryptoin, an asset management company specializing in crypto investment products, has resubmitted a Bitcoin ETF application. The WisdomTree Bitcoin ETF is now under review by the U.S. Securities and Exchange Commission (SEC). The former World Gold Council executive and SPDR gold ETF portfolio manager Jason Toussaint's financial services company Kryptoin Investment Advisors resubmitted the Bitcoin ETF application to the US Securities and Exchange Commission (SEC) on Friday (April 9).
This is the second time the asset management company has tried to apply for a Bitcoin exchange-traded fund (ETF). In October 2019, Kryptoin proposed the "Kryptoin Bitcoin ETF Trust (Kryptoin Bitcoin ETF Trust)" and hoped that the product would be listed on the New York Stock Exchange High Growth Market (NYSE Arca). In the file resubmitted on Friday, NYSE Arca was changed to the Cboe BZX exchange.
The time for Kryptoin to submit applications coincides with the increase in applications for similar products-if it has not yet reached the level of "very likely to be approved," it seems that ETFs are more and more likely to be approved. The SEC also announced on Friday that it has begun reviewing applications for the WisdomTree Bitcoin ETF, and WisdomTree submitted its application in March this year. In addition, the initial comment period for the VanEck Bitcoin ETF application ended on Friday. As of press time, there are only 5 comments. The regulator is expected to make a preliminary decision next month on whether to approve or continue to evaluate VanEck's application.
U.S. regulators have not yet approved Bitcoin ETFs, which makes it impossible for U.S. crypto traders to use this convenient and retail Bitcoin investment tool. There are currently 8 Bitcoin ETF applications awaiting SEC approval. These companies are VanEck, WisdomTree, Kryptoin, NYDIG, Valkyrie, Anthony Scaramucci's hedge fund SkyBridge Capital, and Fidelity's subsidiary FD Funds Management (product name is Wise Origin Bitcoin Trust) and Simplify. The Winklevoss brothers were the first to try to apply for a Bitcoin ETF. They submitted their application as early as 2013 and were rejected afterward Spark Global Limited.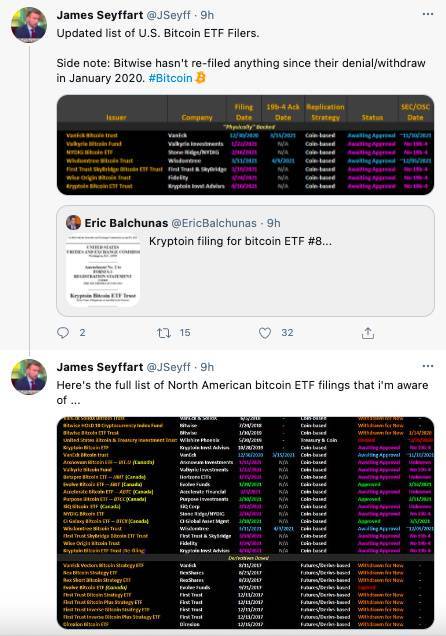 Image source: Bloomberg Intelligence ETF Research Analyst James Seyffart
Currently, Canada and Brazil already have their own Bitcoin ETF products, and crypto company executives are optimistic about the prospects of the United States. According to reports, Morgan Creek Capital Management CEO Mark Yusko expressed confidence that the Bitcoin ETF will eventually be approved by the SEC. At present, the leader in the field of encrypted investment products in the United States is the Grayscale Bitcoin Trust of Grayscale Investments. It operates a bit like an ETF, although there are some key differences. First, although ETFs function like stocks, gray trusts will allow their investors to lock in their shares for several months. This allows GBTC to be traded at a discount for more than a month; Bitcoin ETF should be closer to the price of the underlying digital asset.
Grayscale also stated that it intends to convert its Bitcoin trust into an ETF, and the timing of the conversion depends on the regulatory environment. Grayscale mentioned, "Although currently only GBTC and ETHE are SEC reporting companies, Grayscale adopts the same business model for all existing products. Each grayscale product is in a different stage of its life cycle. Our goal has always been When conditions permit, these products will be converted into ETFs."