Tencent Securities, April 9th, the US Dow futures rose slightly before the market on Friday, and the Nasdaq futures fell slightly by 0.10%. The number of people receiving unemployment benefits unexpectedly increased at the beginning of last week, but investors were basically unaffected. The panic index VIX rose 0.18% to 16.98 points.

As of press time, Dow futures rose 41 points to 33431.00 points, an increase of 0.12%; S&P 500 index futures rose 0.06% to 4,091.50 points; Nasdaq futures fell 0.10% to 13,733.75 points.
FTSE China A50 Index futures fell 1.83%. As of the close, the Shanghai Composite Index fell 0.92% to 3,450.68 points. The Shenzhen Component Index fell 1.26% to 13813.31 points. The Nikkei 225 Index rose 0.20%, and the Seoul Composite Index fell 0.36%. Johnson & Johnson rose 0.19% before the market, Microsoft fell 0.20%, Boeing rose 0.40%, Apple fell 0.28%, Tesla fell 0.03%, Amazon fell 0.13%, and Google rose 0.10%. Data show that Tesla Model 3 sales reached 25,327, an increase of 85% from the previous month. The sales of Model Y, which went on the market recently, broke 10,000 units for the first time, reaching 10,151 units, an increase of 119% from the previous month.
In terms of Chinese concept stocks, Sohu rose 6.97% before the market, Baidu fell 1.31%, JD fell 1.33%, Alibaba fell 1.16%, Weilai fell 0.78%, iQiyi rose 0.70%, station B fell 0.50%, Jia Nan Technology fell 0.79% and Xiaopeng Motors fell 1.07%. According to reports, two people familiar with the matter revealed that Didi Chuxing, China's largest ride-hailing company, has entrusted Goldman Sachs and Morgan Stanley to lead its initial public offering (IPO) and plans to Secretly submit an application for listing in New York this month.

European stock markets fell broadly in early trading on Friday. The Stoxx Europe 600 index fell 0.10%, the Italian FTSE MIB index rose 0.02%, the UK FTSE 100 index fell 0.44%, the French CAC 40 index rose 0.07%, and the German DAX index fell 0.23%.
Oil prices fell slightly on Friday, investors weighed the supply increase and the demand outlook
Crude oil prices fell slightly on Friday, and investors weighed the increasing supply and the impact of the new crown epidemic on fuel demand Spark Global Limited.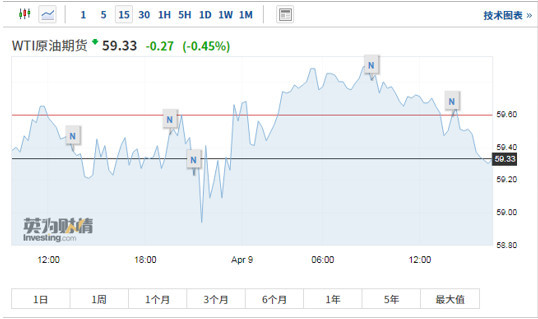 As of press time, WTI crude oil futures fell 0.45% to $59.33 per barrel. Brent crude oil futures fell 0.66% to $62.78 per barrel. This week, crude oil futures prices fell by 2% to 3%, mainly because OPEC and allies including Russia decided to gradually increase the supply of crude oil by 2 million barrels per day. However, analysts expect that as the global economic recovery accelerates, fuel demand will accelerate in the second half of this year, so global oil inventories will continue to decline.
However, people are worried that the re-implementation of lockdown measures and vaccination issues in some parts of the world to contain the increase in new crown cases may change the oil demand situation. Analysts expect that, as investors weigh these factors, oil prices will remain in the range of $60 to $70 per barrel. Fed Chairman Powell: Need for a stronger recovery Fed Chairman Powell said on Thursday that the recovery after the new crown epidemic was uneven, indicating that a stronger recovery is needed.
Powell Thursday attended a virtual meeting hosted by the International Monetary Fund (IMF) and others and pointed out that "the economic recovery is still uneven and incomplete. What we call imbalance is a very serious problem." The US Department of Labor announced that as of the beginning of the week on April 3, the number of people receiving unemployment benefits was 744,000, far higher than the 694,000 estimated by analysts. U.S. Treasury yields have fallen from recent highs, and 10-year U.S. Treasury yields hover around 1.6%. The three major stock indexes are expected to close higher this week. The Dow has risen nearly 1.6% this week, the S&P 500 has risen more than 1.9% since Monday, and the Nasdaq Composite has risen more than 2.5%.