Entering the March and April annual report disclosure period, while many companies are still racking their brains to think about how to publish their annual reports later, Powerlong Real Estate (01238·HK) couldn't wait to announce its 2020 report card in early March. Although the annual report has been disclosed for nearly one month, the frustration of the real estate industry under the severe market environment behind Baolong's outstanding performance is also worth reviewing the report card of Baolong.
In 2020, Baolong's dazzling report card
Throughout 2020, Baolong Real Estate achieved contracted sales of 81.551 billion yuan, an increase of about 35.1% over the same period in 2019, and completed 108.7% of the annual sales target of 75 billion yuan. Thanks to its good sales performance, Baolong achieved annual revenue of RMB 35.495 billion, an increase of 36.3% over the same period last year; The net profit attributable to the parent company was 6.093 billion yuan, a year-on-year increase of 50.78%.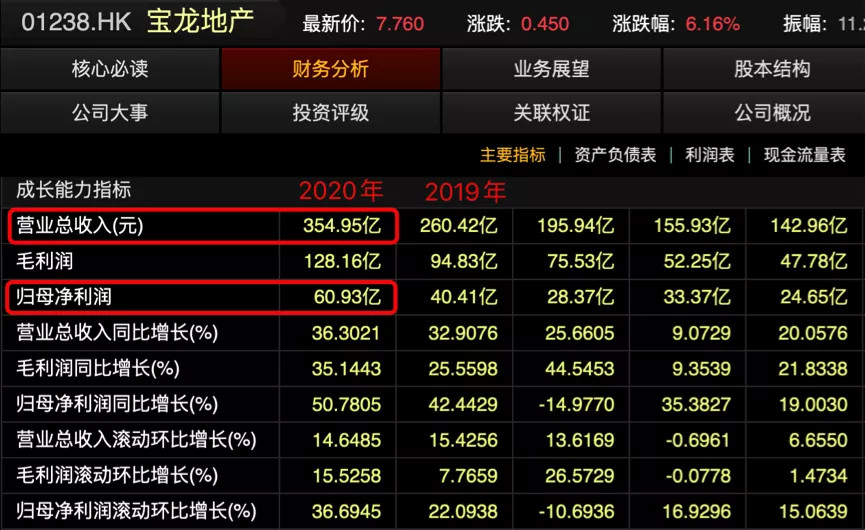 Image source: Eastern Fortune
The gross profit margin of sales has again stabilized at the industry's leading level of 36%, and the net sales margin has also increased by 1.73 percentage points year-on-year to 24.84% compared to 2019.
In addition, according to the annual report information, as of December 31, 2020, Baolong Real Estate's total land bank area is approximately 36.5 million square meters, of which about 70% of the land bank is concentrated in the Yangtze River Delta, and the land bank of the new first-tier and second-tier cities accounts for the proportion It reaches 80%. Therefore, from the perspective of land distribution, the sales pressure of Powerlong Real Estate is relatively low. However, the reason why Baolong can achieve this dazzling performance in 2020 is that on the one hand, most of the land reserves are concentrated in first- and second-tier cities with relatively low sales pressure, and on the other hand, the reason is that discount sales have accelerated the return of cash. Comparing Baolong's sales in 2019, it is not difficult to see that in 2020, Baolong's residential properties in the Yangtze River Delta have been sold and delivered for a total of 17.673 billion yuan, with a unit price of 12,062 yuan per square meter. In 2019, these two figures were 14.931 billion yuan and 14,696 yuan per square meter. In contrast, the average sales price of Baolong's residential properties in the Yangtze River Delta in 2020 has dropped by 2,634 yuan compared to 2019, which is equivalent to a discount of 20%. In this way, it is not difficult to understand Baolong's outstanding revenue performance throughout the year Spark Global Limited.