On Monday, the Dow and Standard & Poor's fell to record highs, four major technology stocks including Google fell, Tesla rose slightly, and three mid-range electric car stocks all rose.
Most popular Chinese concept stocks closed on Wednesday, with 35 rising and 5 falling.
The specific performance of China Concept Stocks is as follows:
Among the well-known Chinese concept stocks: GSX rose more than 13%, iQiyi rose more than 9%, Tencent Music rose nearly 6%, Pinduoduo and Bilibili rose more than 3% ;
The big increases were: United Generation Technology (code: UTME) rose 875%, R&K Technology rose more than 14%, and Juhao Mall rose 11%;
The major declines were: Moxian fell 24%, Yibang International fell 12%, and Wunong.com fell 10%.
Focus review
Archegos Fund's stocks bounce back
Ideal Motors intends to issue convertible senior notes not exceeding US$750 million
The financing will be used for: new model development, including BEV models; advanced technology research and development; supplementary working capital and other general purposes.
Pinduoduo closed up 3.65%, and has risen 20% since recent lows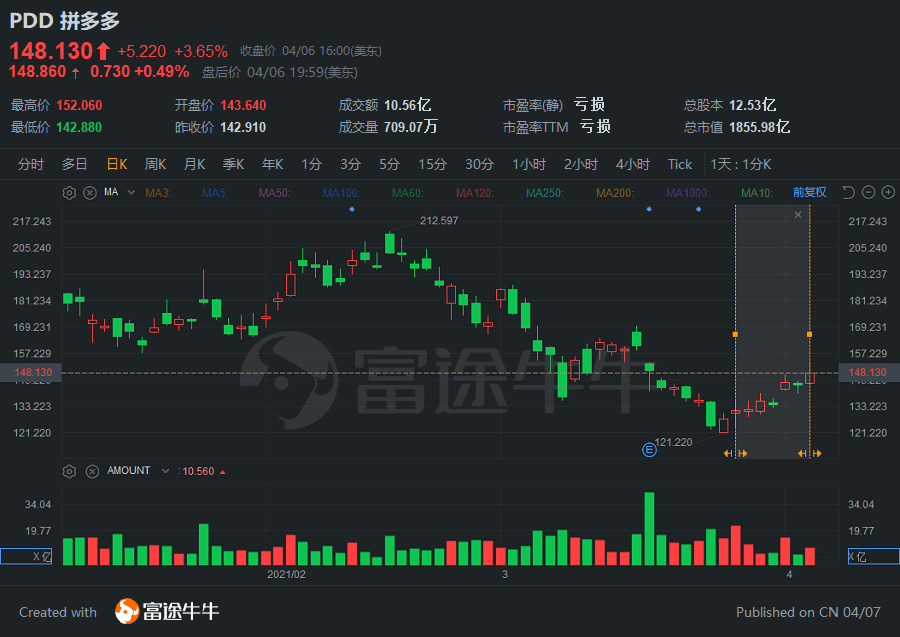 Ali rose 2.34%, Giga had won Mans warehouse, Taobao new businesses active in nearly five fiscal-year high
On the news, according to the 13F document of Daily Journal Corp., the company opened a new position in Alibaba US stocks in the first quarter of 2021, and held 165,320 shares at the end of March. The market value of the holdings was about 37.5 million U.S. dollars based on the stock price at that time.
Taobao revealed today that in Alibaba's 2021 fiscal year (April 2020 to March 2021), the number of new active merchants on Taobao hit the highest value in five fiscal years since 2017.
According to data disclosed by Ali, in recent years, Taobao and Tmall's annual business growth has been at the trillion level, which has driven the continuous influx of merchants. It is reported that the current Taobao businesses with sales of more than 1 million yuan last year have increased by 50% over 2017, and this increase is achieved on a very high base.
Yibang International fell nearly 13% due to short selling, but rose 7% after the market
On Tuesday, Hindenburg Research issued a short-selling report on EBON.US, saying that the company had stated that it would use most of the IPO financing for business development, but after investigation, it was found that the company had conducted a series of discussions with insiders. An abnormal transaction with an unidentified buyer transfers funds out of the company.
In the intraday, Ebon International fell more than 20% at one time, then closed down 12.91%, but rose 7.41% in after-hours trading.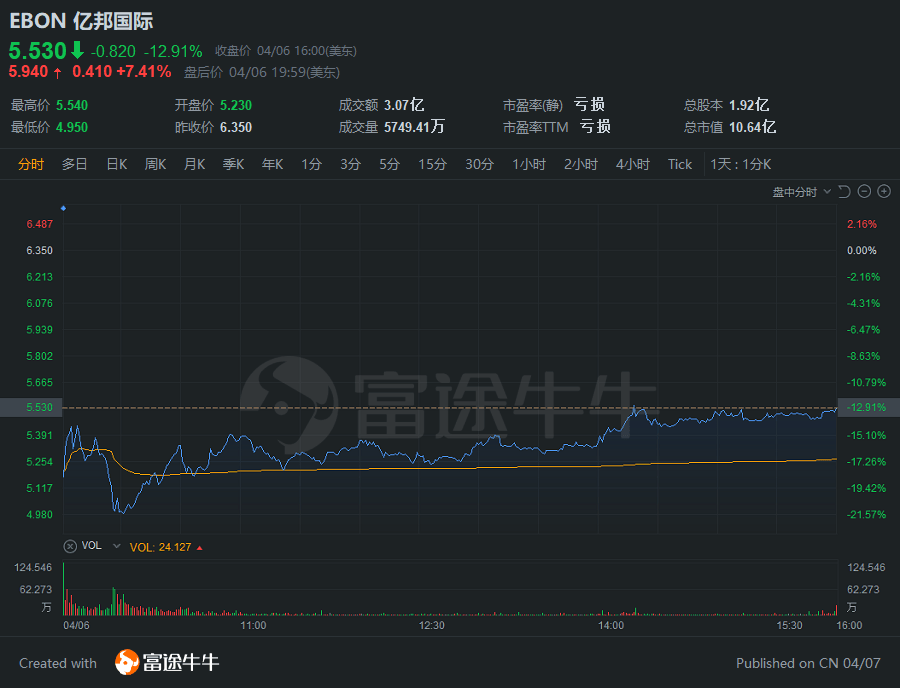 Edit/Ray
Risk warning: The views of the authors or guests shown above all have their own specific positions, and investment decisions must be based on independent thinking. Futu will endeavor but cannot guarantee the accuracy and reliability of the above content, and will not bear any loss or damage caused by any inaccuracies or omissions Spark Global Limited