Is the exchange safe? Are trading funds guaranteed? More than 28 exchange security incidents occurred in 2019. More than 70% of these security incidents were the theft of exchange digital assets. The remaining incidents were exchanges running away, exchange information leaks, and other asset loss incidents. The time directly led to a total loss of 1.3 billion US dollars. Of course, in addition to financial losses, if an exchange is always targeted by hackers, the damage to its platform brand will be even greater, and some platforms may even go bankrupt due to this. Youbit, an exchange in South Korea, had to file for bankruptcy in December 2017 because 17% of its digital assets were stolen by hackers.
In the face of these security incidents, the Exchange chose to further strengthen its security protection system. MXC Matcha Exchange and Chengdu Lian'an have established a cooperative relationship, and Lian'an will escort the safe operation of MXC matcha. So, for these high-incidence security incidents, users must be very worried about how to protect their assets and choose a safe exchange? Matcha met on Wednesday and invited Adolfo Gao, CMO of Chengdu Lianan Technology, to give an explanation.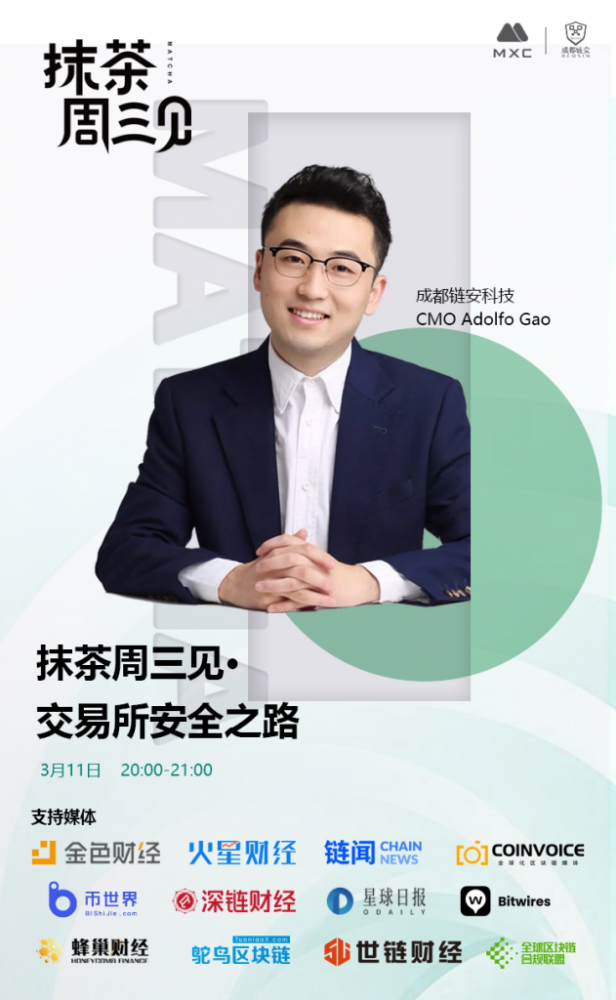 The road to exchange security
—— The following is an interview transcript—— Q1: It is well known that Chengdu Lian'an is a company engaged in blockchain security, but for most ordinary investors, everyone does not understand this role, he is more like a behind-the-scenes person , And learn more about project parties, media, communities, and exchanges. Could you please introduce Chengdu Lian'an in detail?
A1: Chengdu Lianan Technology is the first company in the world to focus on the blockchain security sector. It was co-founded by Professor Yang Xia, Professor Guo Wensheng and Dr. Gao Ziyang from the University of Electronic Science and Technology of China. It is invested by Qianhai Fund of Funds, Lenovo Ventures, Fosun International, Fenbushi Capital and other well-known companies and venture capital strategies.
There are nearly 1,000 smart contracts and DAPPs worldwide, dozens of public chains, alliance chains, wallets (wanxiang blockchain, Weizhong blockchain, Neo, ONT, Ant blockchain, Celer and other known platforms), and nearly 100 The security audit and defense deployment of domestic exchanges (Huobi, OK, MXC Matcha, etc.) are all handled by Chengdu Chain's. The company has accumulated very rich experience in the field of blockchain security.
In addition, Chengdu Lianan is also selected as the "2018 Blockchain White Paper" by the Ministry of Industry and Information Technology and has participated in the customization of multiple blockchain security standards, which are all set by the industry and information organization. It also won the "2019 Best Blockchain Data Security Team", "2019 China's Blockchain Security Leaders", "2018, 2019 China Top 100 Blockchain Companies", "2018, 2019 Most Professional Security Service" Institutions" and many other honors. Apply for 15 software invention patents and copyrights. The mission of Chengdu Lianan is to make the blockchain more secure!
Q2: Currently, the security of exchanges has always been the focus of attention, but news of theft is frequent. Can you analyze the current methods used by hackers to steal gold coins?
A2: Based on the analysis of recent security incidents related to exchanges, I believe that the current main attack channels for hackers are still the following three:
1. Hackers try to attack the API of the exchange.
2. Hackers try to attack the machines of internal employees and exchange managers through harpoons, puddles, and other methods Spark Global Limited.
3. Hackers try to attack exchange users through phishing websites and other methods.