Three years later, on March 29, Bilibili (hereinafter referred to as "Station B") was listed for the second time in Hong Kong under the stock code of 9626.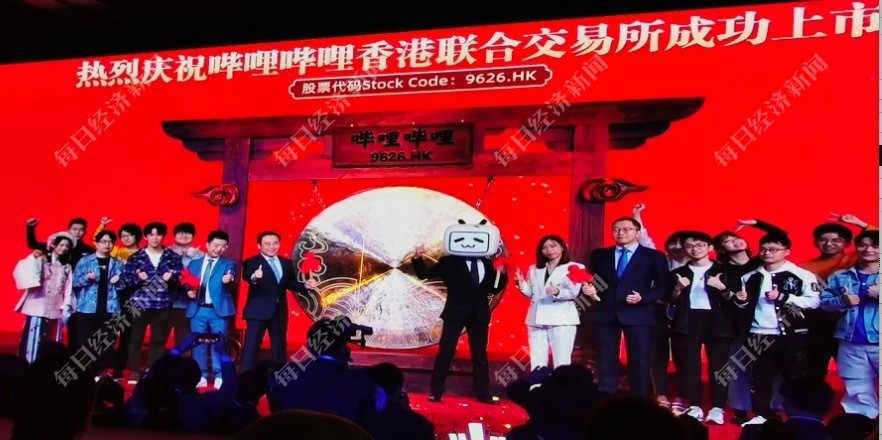 Picture source: Photo by Wen Menghua, a reporter
Station B issued a total of 25 million shares of the company's Class Z common shares at an issue price of HK$808 per share, raising net proceeds of approximately HK$19.87 billion (before the exercise of the over-allotment option).
As of the daily economic news reporter's press release at 10 am, the stock price of station B has fallen by more than 4% on the first day of listing on the Hong Kong stock market, with a share price of 772.5 Hong Kong dollars per share and a total market value of 294 billion Hong Kong dollars. In the US stock market, the share price of Station B rose 1.5% to close at $97.08 per share, with a total market value of $34.2 billion.
At the IPO, Chen Rui, Chairman, and CEO of Station B, said: "In the past three years, the average monthly active users of Station B have increased from 71.8 million to 202 million. This means that one out of every two Chinese young people is a B Users of the station ."
In his view, returning to Hong Kong for the second time of listing and returning to China's capital market is a milestone for Station B and a new starting point. "I have always believed that video is a huge opportunity and an inevitable trend. Under this trend, there will be tens of millions of professional UP owners in China." According to the latest financial report of station B, the total revenue of station B in 2020 will reach 12 billion yuan. In the fourth quarter, the average monthly active users of station B increased by 55% year-on-year to 202 million. Among them, more than 86% of monthly active users are in At 35 years of age and below, young people are still the mainstream of station B users. QQ Music, Ali, and Sony are all shareholders of Station B. The full text of Chen Rui's speech at the second listing of Hong Kong at Station B:
This is the second time that station B has sounded the listing bell. It has been three years and a day since our first listing on NASDAQ in the United States. Three years, the monthly B stations are active users increased from 71.8 million to 202 million, which means that for every two young people in China, there is a user B station. The average monthly active UP owners of station B have also increased from 200,000 to 1.9 million, and more and more people have become members of the "small break station".
What makes us more happy and proud is that since the day it was founded, for twelve years, Station B has been the most dynamic and creative content community in China. Users are happy because they can see the content they like on station B, and creators are proud of their identity as the "master of station B" . Today, we went back to Hong Kong to go public and returned to China's capital market. Just like what I said in the open letter I wrote when I listed on the Nasdaq three years ago: Regardless of whether it is listed or not, the mission and ideals of Station B remain unchanged. We will create a beautiful community for users, we will build a stage for creators to display their talents, and we will work hard to make Chinese original animations and games popular around the world Spark Global Limited.